7 Snapchat Accounts to Make You a Better Social Marketer
Social media moves fast—so keeping up with all the latest trends and tools can be hard. What better way to stay informed than Snapchat? The ephemeral nature of the platform lends itself to easily digestible and focused tips.
Here are a few social media experts—influencers, entrepreneurs, CEOs, and best-selling authors—that you can learn from on the platform.
7 social media experts you should be following on Snapchat
Dave Morin is the founder of Path, an app that Google tried to purchase for $100 million. Morin declined Google's offer and went on to found another startup, Slow Ventures, before becoming the CEO of Sunrise Bio, a medical and health organization.
Prior to that Morin was Facebook's product lead—so he knows a thing or two about social platforms and what businesses need to do in order to grow. And he shares all of that and more on Snapchat.
Gary Vaynerchuk, or simply Gary Vee. is a serial entrepreneur, venture capitalist, public speaker, and author of several New York Times bestselling books on social media.
Having built a few multi-million dollar companies, Vaynerchuk also hosts the #AskGaryVee show where he talks about making it on social media, running a business, and developing a startup.
[embedded content]
Follow Vaynerchuk on Snapchat for a behind-the-scenes look at how he builds his personal brand, from photoshoots to the making of Gary Vee merchandise. He also mixes in practical social media tips along the way.
3. Mari Smith, Facebook marketing expert, author, and speaker
Mari Smith is a social media thought leader and number five on Forbes' list of Marketing Influencers To Watch In 2017. Her byline appears on two popular books on social media marketing: "The New Relationship Marketing" and "Facebook Marketing: An Hour A Day."
Smith has a wealth of knowledge when it comes to social media strategy and shares her knowledge with her audience on Snapchat.
4. Talia Wolf, founder and speaker
As the founder of Conversioner and GetupLift, Talia Wolf is an expert in conversion optimization for websites, email lists, landing pages, and more.
On Snapchat, she recommends articles, gives tutorials, and suggests other tools to help you optimize your websites. The best part about Wolf's Snapchat strategy? It's less about her and more about you, as she gets straight to the point to provide value and actionable tips to her followers.
5. Peter Shankman, founder and worldwide speaker
Peter Shankman is best known for founding Help A Reporter Out (HARO), a service that connects journalists and bloggers with experts. He's also the CEO and founder of The Geek Factory, a social media, marketing, and PR strategy firm.
Shankman's experience with PR also makes him an expert on increasing social reach. He uses Snapchat to showcase his sense of humor and his knowledge when it comes to marketing your business on social media.
Using Snapchat? You should be! This game-changing app is quickly becoming the secret favorite of brands everywhere! pic.twitter.com/bKNMsb83c1

— Peter Shankman (@petershankman) March 17, 2016
6. Everette Taylor, entrepreneur and marketing executive
Everette Taylor is the founder of MilliSense, co-founder of GrowthHackers, a growth strategist for Microsoft, and former CMO of Sticker Mule. He's also VP of marketing at Skurt, a rental car delivery service in Silicon Valley.
[embedded content]
On Snapchat Taylor offers up social media tips and tricks he's learned along the way. Taylor's journey to success—from high school homelessness to running his own company at age 19—is an inspiration for many marketers.
7. Amy Schmittauer, YouTuber, author, and speaker
Content marketing coach Amy Schmittauer is an in-demand speaker and author of "Vlog Like a Boss: How to Kill It Online with Video Blogging."
ANALYTICS OF MY MOST POPULAR VIDEOS #VlogLikeaBoss #SSSVEDA https://t.co/yJqevBuQRk pic.twitter.com/4eWzPGp86A

— Amy Schmittauer (@Schmittastic) August 10, 2017
Schmittauer might be best known for her YouTube channel on how to vlog like a pro, but that doesn't mean her Snapchat isn't making waves either. Her Snapchat content is informal and fun but still loaded with social media advice.
Hootsuite's on Snapchat! Click this link on mobile to go directly to Hootsuite's profile or scan the Snapcode below to add Hootsuite as a Friend on Snapchat.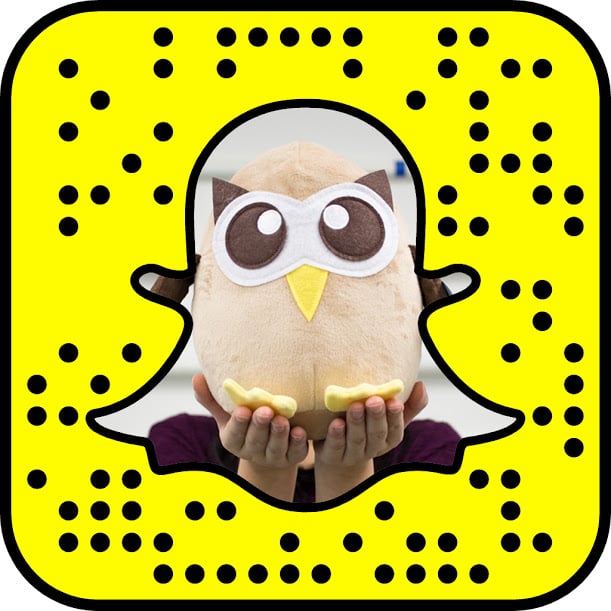 This post was originally published on Hootsuite