Social Media News You Need to Know: May 2017 Roundup
Face filters for Instagram, custom Stories for Snapchat, and new Live video features for Facebook—the month of May brought a lot of exciting new updates.
Let's dive in.
Table of contents
Twitter
New premium video content
On May 2, Twitter announced 16 live streaming content deals across sports, news, and entertainment, bringing hundreds of hours of new premium video content to Twitter—including original live programming, games, and events.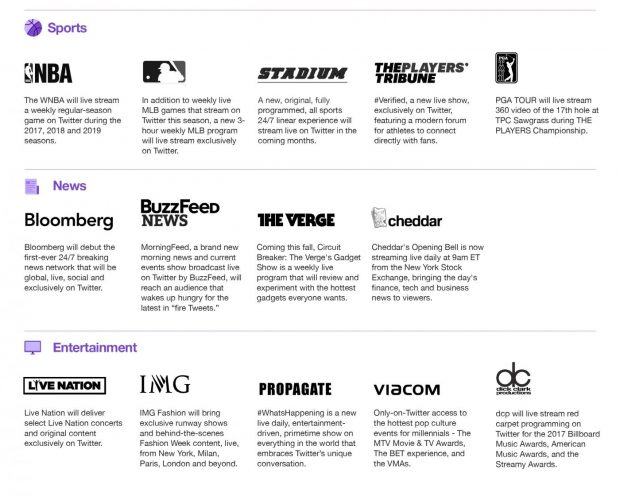 Image via Twitter.
New privacy and data controls
On May 17, Twitter announced increased access to data and a suite of tools to manage privacy, including:
An expanded Your Twitter Data section to provide users access to their own demographic and interest data, as well as advertisers that have included them in their tailored audiences
New personalization and data settings so users can opt out of various types of data usage and sharing
Personalization across devices, so users can choose whether their experience will be tailored based on information from other devices
Data and privacy policy updates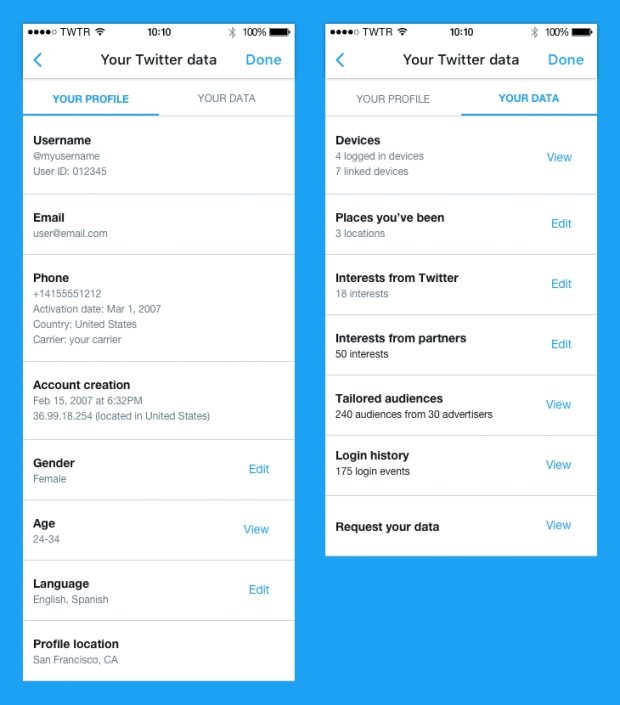 Image via Twitter.
Customizable Direct Message Card
On May 23, Twitter launched customizable Direct Message Cards, allowing businesses to promote and share bots and other customer experiences built into Direct Messages. The new card helps drive discovery via Promoted Tweets and organic sharing. Businesses can use images or video as well as up to four customizable call to action buttons.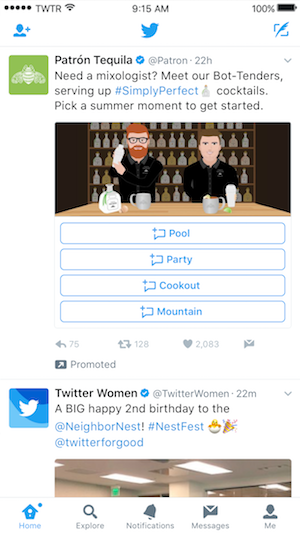 Image via Twitter.
New emoji available early on Twitter
On May 24, Mashable reported that the emoji update coming later this year is available early—on Twitter. Users can try out the 239 new emoji, which includes dinosaurs, a woman with a headscarf, wizards, and vampires.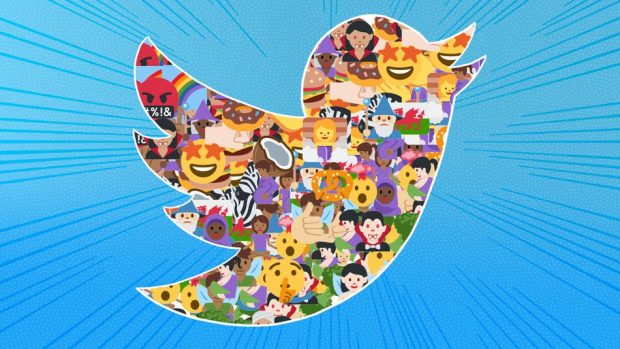 Image via Mashable.
Facebook
Instant games on Messenger
On May 2, Facebook rolled out Instant Games on Messenger, and new game features were previewed at F8, including rich gameplay (such as turn-based games) and game bots.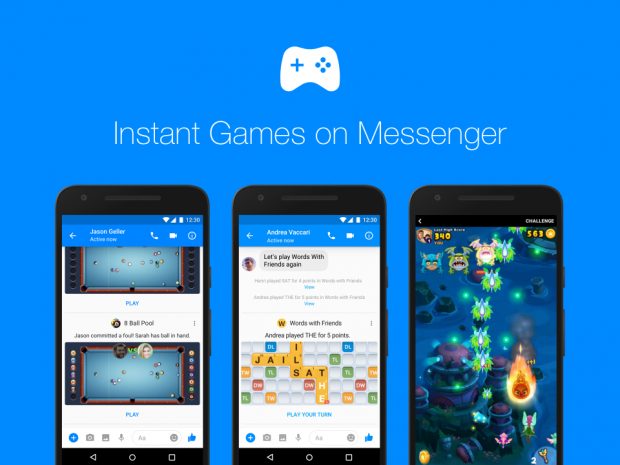 Image via Facebook.
News Feed updates
In May, Facebook made two significant updates to the News Feed algorithm:
The platform has cracked down on links to low-quality web pages, so that people see fewer posts and ads that link to them
A stronger push to curb clickbait headlines—this includes looking at clickbait at the individual post level (in addition to domain and Page level), separating signals used to evaluate headlines into two categories (whether a headline withholds information or if it exaggerates information), and testing in additional languages
New Facebook Live features
On May 23, Facebook added two new features to Facebook Live video:
Live Chat with Friends—lets audience members invite friends to a private chat around a public live broadcast
Live With—lets broadcasters invite a guest to join the stream, appearing in split-screen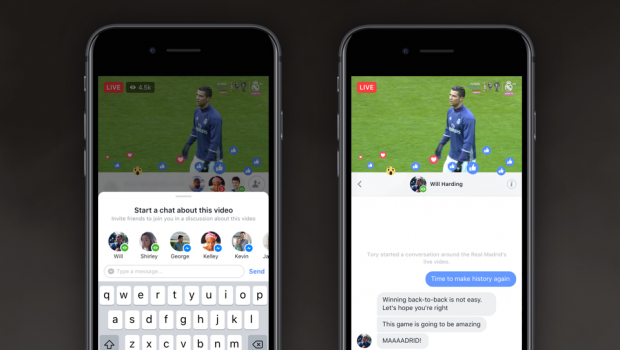 Image via Facebook.
Expanded fundraiser feature
On May 24, Facebook expanded personal fundraisers to everyone in the U.S. over the age of 18. Fundraisers, which originally debuted in March, are a "product that allows people to raise money for a friend, themselves or a sick pet directly on Facebook."
The social network also added two new categories—community and sports—to the list of already available fundraising options: education, medical, pet medical, funeral and loss, crisis relief, and personal emergency.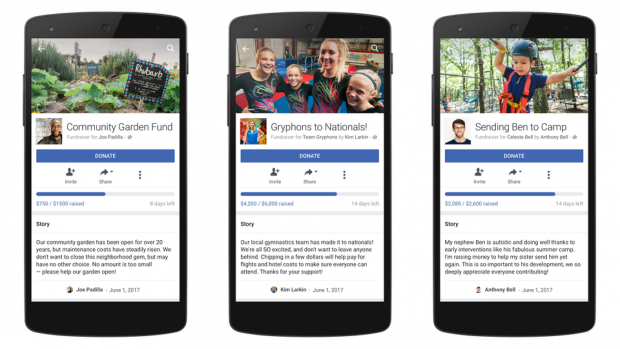 Image via Facebook.
Trending results redesign
On May 24, Facebook introduced a redesigned Trending results page, which users will see when they click on a Trending topic to learn more. The page now features a carousel of stories from other publications that are covering the topic, and includes what friends and public figures are saying about it.
The update is available on iPhone in the U.S. with plans to bring it to Android and desktop soon.
Additionally, Facebook is running a test that shows the top three trending topics at the top of select users' News Feeds.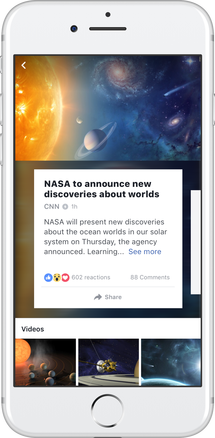 Image via Facebook.
Instagram
Upload photos on mobile web
In early May, Instagram introduced full functionality to its mobile website, reported TechCrunch. This means that users can now upload photos outside of the Instagram app—though still only on a mobile device.
Instagram told TechCrunch that the update is "designed to help people have a fuller experience on Instagram no matter what device or network they are on."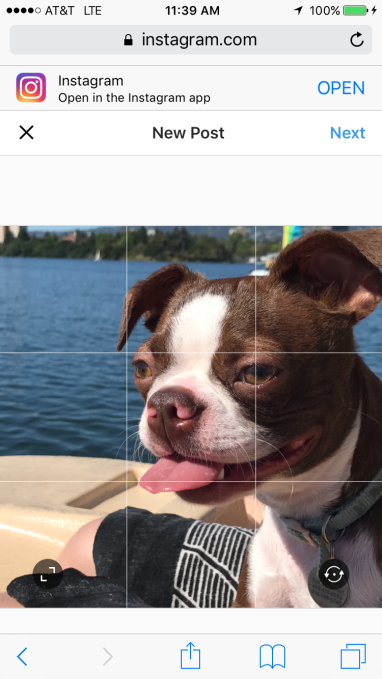 Image via TechCrunch.
Face Filters
On May 16, Instagram introduced Face Filters, new augmented reality selfie filters. The featured debuted with eight different filter options, including a flower crown and koala ears. Face Filters work with both front and rear-facing cameras as well as with Boomerang.
[embedded content]
New tools
On May 16, Instagram rolled out several new creative tools:
Rewind—record videos that play in reverse with this new option available between Boomerang and Hands-Free
Hashtag stickers and text—add a tappable hashtag of your choosing to your story in sticker form or as text (the same as with mentions)
Eraser brush—use along with drawing tools to erase what you've drawn or play with removing color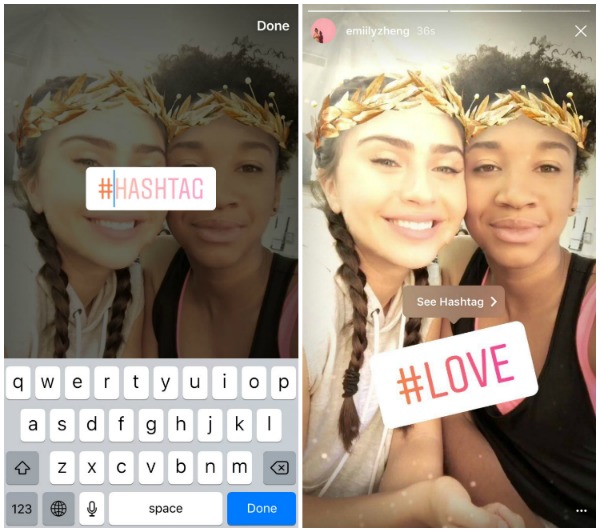 Image via Instagram.
Location and hashtag Stories
On May 24, Instagram introduced location and hashtag Stories on Explore, allowing users to find stories happening nearby or based on their interests. Location-based Stories will appear in a new ring at the top of Explore, based on location stickers used in those Stories.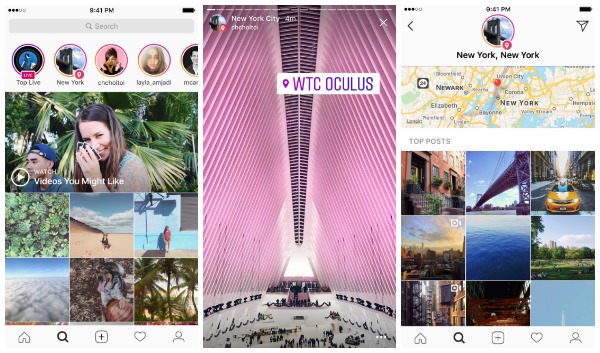 Image via Instagram.
Hashtag search results may include a Story ring filled with Stories using that hashtag. Adding a location or hashtag sticker to your story means it may be eligible to appear in the larger Story (unless you choose to hide it).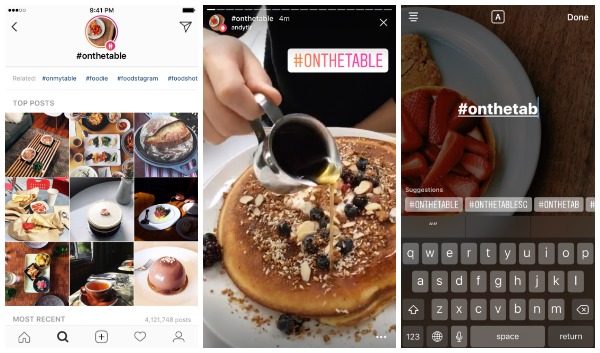 Image via Instagram.
Archive
On May 22, TechCrunch reported that Instagram is testing a new archive feature. The feature would allow users to archive, or effectively hide, a post instead of deleting it. Users can view their archived posts in a private tab or even restore them to their feed.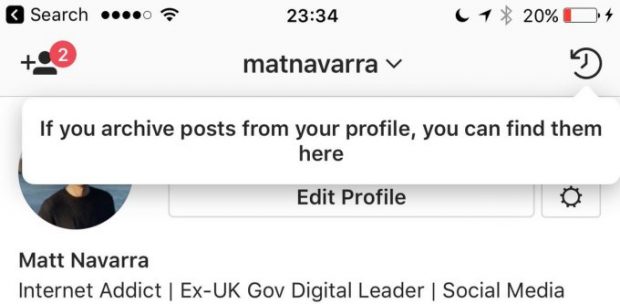 Image via TechCrunch.
New features in Direct
On May 25, Instagram added several new features to Direct:
Landscape and portrait images sent as permanent photos or videos from camera roll using Direct now display without cropping
Website links shared in Direct will now display a link preview
Links will also display for phone numbers and addresses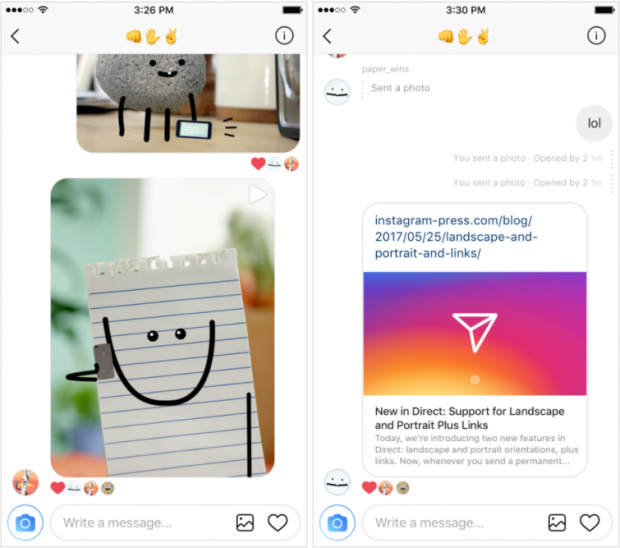 Image via Instagram.
Pinterest
Lens beta improvements
On May 9, Pinterest announced several updates to Lens beta:
Use Lens on multiple things at once
Get a quick response on QR codes
Shortcut to Lens for iPhone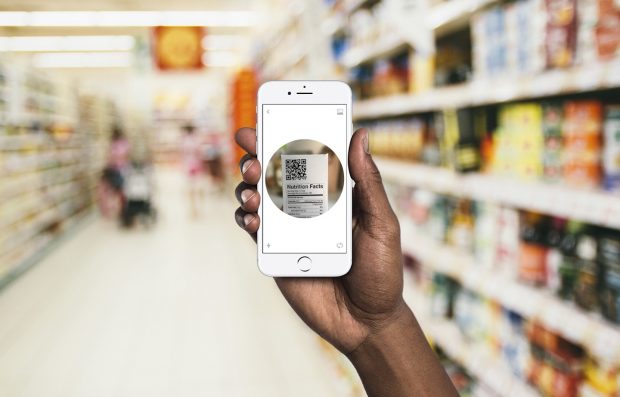 Image via Pinterest.
Food features
On May 23, Pinterest introduced new food-focused features:
Filter recipes by time, diet, and ingredients
Use Lens beta on an entire dish to get the recipe
See star ratings on recipes from sites like epicurious, Martha Stewart, and Food Network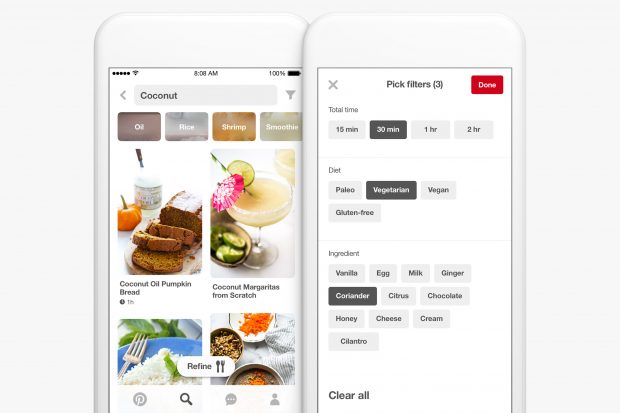 Image via Pinterest.
YouTube
Dark Theme
On May 2, YouTube introduced Dark Theme, one of the first new features developed through its redesign. Developed on Polymer, the update uses a dark background throughout a user's YouTube experience. Along with the new feature, the social network offered a sneak peek into their redesign, the core principles of which will be: simplicity, consistency, and beauty.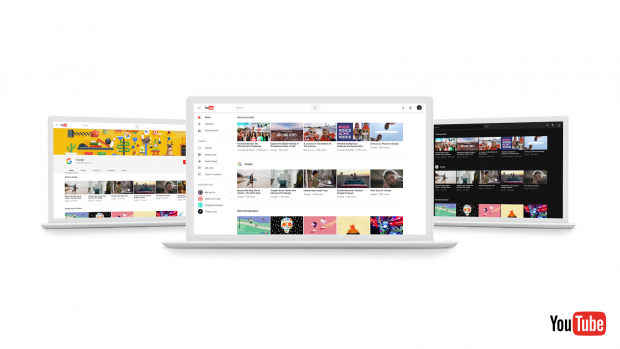 Image via YouTube.
LinkedIn
New features
In May, LinkedIn added several new features: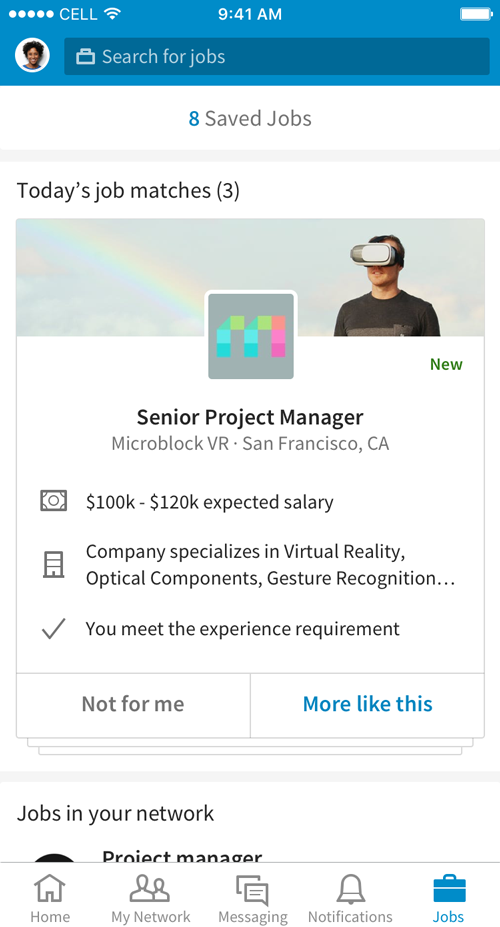 Image via LinkedIn.
Acquisition of Heighten
On May 30, LinkedIn announced they'd acquired Heighten, a sales tech startup. The professional social network said they're adding assets and engineers from the company to their team. They'll be evaluating which of the startup's features—sales process tracking, sales pipeline reporting, and intelligent notepad—to add to their Sales Navigator tool in the coming months.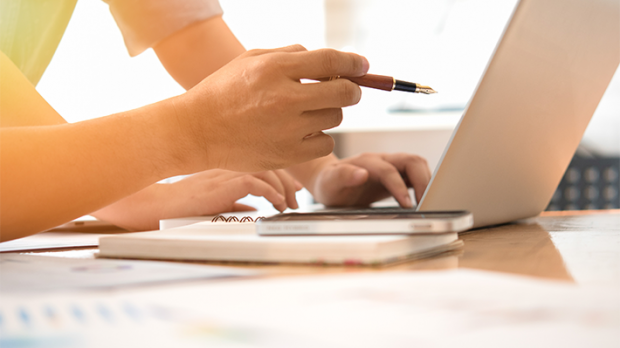 Image via LinkedIn.
Hootsuite
Hootsuite Impact
On May 16, Hootsuite relaunched Liftmetrix as Hootsuite Impact. The new product gives businesses the tools to track the complete social media conversion funnel.
Snapchat
Limitless Snaps and loop
On May 9, Snapchat introduced a new timer setting: infinity. Users can now set videos to loop or photos to remain on screen until the recipient is finished viewing them. At that point, the Snap will delete as usual.
Choose the ∞ timer when your friends need more than a moment to *truly* appreciate your vision 😍 https://t.co/js6mm1w1Yq

👩‍🎨 @DABattelle pic.twitter.com/qCvlCnwvZR

— Snapchat Support (@snapchatsupport) May 17, 2017
New tools
Also during the month of May, Snapchat added two new creative tools:
Draw with emoji—select one of several emoji options instead of the standard pen color
Magic Eraser—make something in a photo Snap disappear, essentially Photoshopping it out by selecting it
Bitmoji Snapcode—choose to add your Bitmoji Selfie to your Snapcode
Use the emoji brush to paint with ❤️'s, ⭐️'s, 🍀's,🎈's 🌈's and more!
(Horseshoes & pots of gold are still a work in progress, though 😜) pic.twitter.com/9F1HxTiDpB

— Snapchat Support (@snapchatsupport) May 10, 2017
Custom Stories
On May 23, Snapchat rolled out custom Stories, a new feature that allows groups to create a collective Story. There are two types of custom Stories:
Group Stories—lets chosen friends add to a Story together
Geofenced Stories—let anyone within a designated area add to the Story
Custom Stories can include up to 1,000 Snaps at a time and can be saved in their entirety by their creator (though participants have the option to save the Snaps they contributed to the larger Story).
[embedded content]
New ads offerings
On May 15, Snapchat rolled out three new ad products, TechCrunch reported:
Sponsored World Lenses—four types of augmented reality filters
Audience Lenses—regionally targeted Lenses that let advertisers buy a guaranteed number of Lens impressions for a specific audience (previously Lenses were only available as nationwide takeovers)
Smart Geofilters—these will automatically add location or real-time information to a Geofilter that is available over a wide region (like an entire country) or many locations (like the one you find at any McDonald's)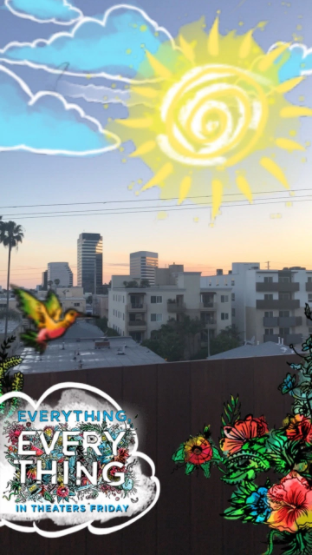 Image via TechCrunch.
Social media moves fast and keeping up with the rate of change—new platforms and shifting best practices—can be tough. Learn the fundamental social media marketing skills you need to stay ahead of the pack with free training from Hootsuite Academy.
This post was originally published on Hootsuite