Social Media News You Need to Know: November 2016 Roundup
A unified inbox for Facebook, Messenger, and Instagram. New features for Instagram Stories. Live video for Instagram. The release of Snapchat's highly anticipated Spectacles.
It's been a busy month on social.
Never fear. We've rounded up all the updates—big and small—from all the major social platforms to ensure that you don't miss a thing.
Table of contents
Twitter
Tools to address abuse
On November 15, Twitter announced new controls, reporting, and enforcement to deal with online abuse. As part of this initiative, Twitter expanded its pre-existing mute function. Now users can mute keywords, phrases, and entire conversations in notifications.
Additionally, Twitter has given users a more direct way to report hateful conduct that targets people on the basis of race, ethnicity, national origin, sexual orientation, gender, gender identity, religious affiliation, age, disability, or disease. Twitter has also retrained its support teams on policies, including special sessions on cultural and historical contextualization of hateful conduct. The company has implemented an ongoing refresher program.
Reply counts and organized conversations
On November 29, Twitter introduced new tools to help users see the buzz around their Tweets. With reply counts, users can see how many people are participating in a conversation via a number displayed next to the reply icon. This number will show how many direct replies the original Tweet has received, rather than the total number of replies in a total conversation. The conversation ranking feature means that replies will not be shown in chronological order, but rather will be grouped by sub-conversation. Twitter explained: "When ranking a reply higher, we consider factors such as if the original Tweet author has replied, or if a reply is from someone you follow."
https://support.twitter.com/articles/20174577
Moments creation available on mobile
On November 30, Twitter rolled out Moments on mobile. Twitter first opened up access to Moments—which allow users to create stories featuring Tweets and images—in September 2016. Originally, users were only able to create them on the web. Twitter explained how to create a Moment on mobile in (what else?) a Moment.
Facebook
Jobs page
On November 7, Facebook introduced a new jobs tab to allow businesses to promote opportunities on their Facebook Page. Facebook confirmed the test to TechCrunch: "Based on behavior we've seen on Facebook, where many small businesses post about their job openings on their Page, we're running a test for Page admins to create job postings and receive applications from candidates."
TechCrunch reported that the test includes a new status update composer option to share a job opening, including details such as title, salary, and whether it's full-time or part-time.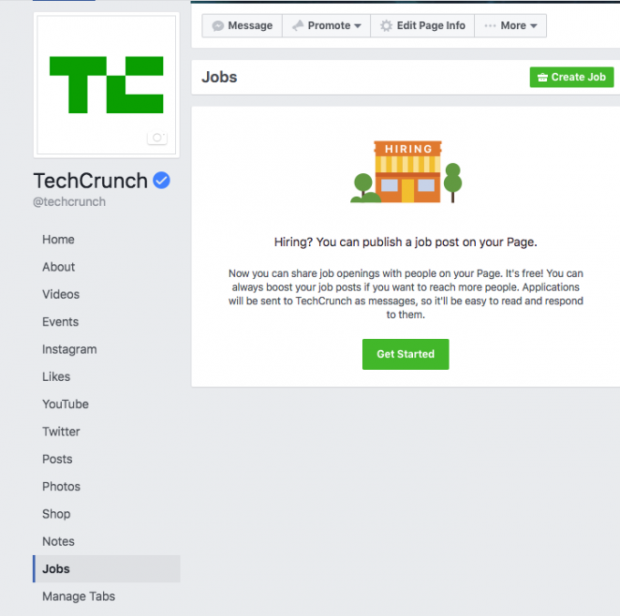 Image via TechCrunch.
Messenger Platform 1.3
On November 8, Facebook introduced Messenger Platform 1.3 to allow businesses to "drive targeted audiences to Messenger and keep them engaged with new tools." Businesses can now run News Feed ads that open Messenger conversations and send sponsored messages to re-engage customers on open threads.
Among other things, Platform 1.3 includes the ability for developers to add reference params so they can see where bot traffic is coming from, list templates, improved search results, and a checkbox plugin to allow customers to opt-in to Messenger conversations with a business.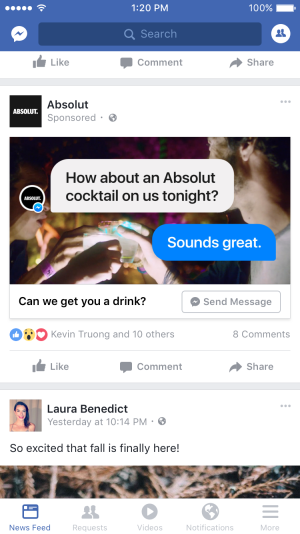 Image via Facebook Messenger Blog.
Among other things, Platform 1.3 includes the ability for developers to add reference params so they can see where bot traffic is coming from, list templates, improved search results, and a checkbox plugin to allow customers to opt-in to Messenger conversations with a business.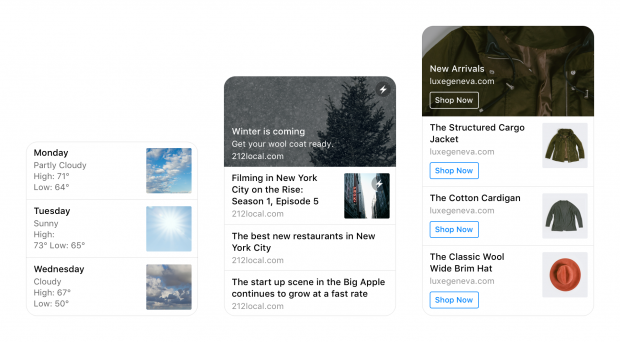 Image via Facebook Messenger Blog.
Ethnic affinity marketing
On November 11, Facebook rolled out updates to "ethnic affinity" marketing—a way for brands to reach multicultural audiences with relevant advertising—to better prevent discriminatory advertising. Facebook says it will build tools to detect and automatically disable the use of ethnic affinity marketing for certain types of ads—such as those offering housing, employment, or credit.
Additionally, Facebook plans to update its advertising policies "to be even more explicit and require advertisers to affirm that they will not engage in discriminatory advertising on Facebook." Facebook says it will also offer new educational materials "to help advertisers understand their obligations with respect to housing, employment, and credit."
Bots analytics
On November 14, Facebook announced analytics support for Messenger bots. Facebook is extending the analytics support offered through its Facebook Analytics for Apps tool. Developers will be able to view reports on messages sent, messages received, and people who block or unblock their app—without the need to add additional code. They'll also have access to demographic reports that include age, gender, education, interests, country, and language.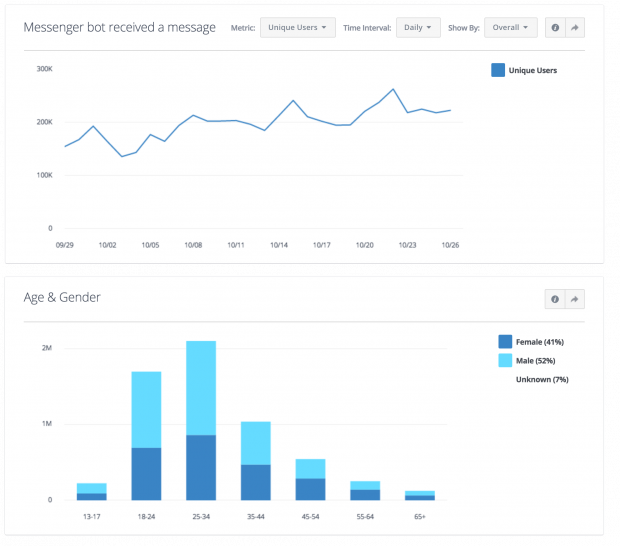 Image via Facebook Messenger Blog.
Additionally, developers and businesses can also now apply for FbStart, "Facebook's global program to help early stage mobile startups build and grow their apps." The program includes benefits such as Facebook ads credits and free services from partners like Amazon, Dropbox, and Stripe.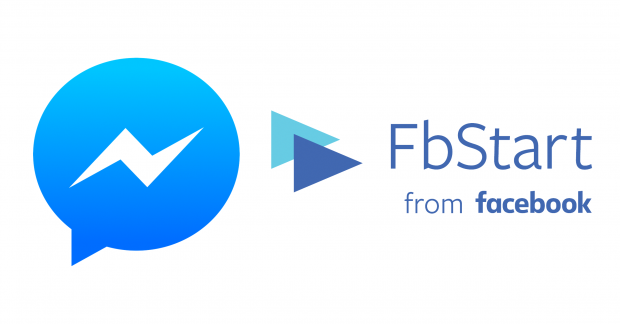 Image via Facebook Messenger Blog.
Unified inbox
On November 15, Facebook launched a unified inbox to allow businesses to manage interactions across Facebook, Instagram, and Messenger. Businesses can now link the accounts so they can manage communications across the channels from a single app.
The feature allows businesses to reply to Facebook comments, visitor posts, reviews, messages, and Instagram comments. Businesses can also tap the name of a user to see their publicly available profile as well as the person's previous interactions with the business. The unified inbox will be rolled out globally to all users of the Pages Manager mobile app in the coming weeks. It will soon be available on other devices as well.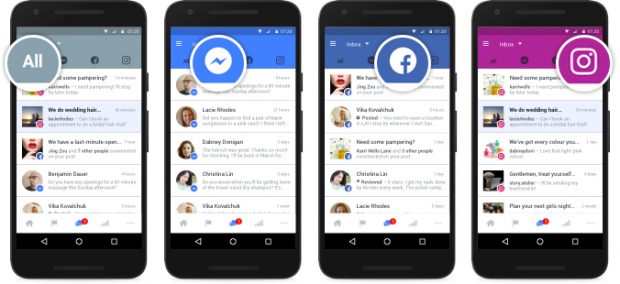 Image via Facebook.
Android Auto Messenger integration
On November 15, Facebook introduced a Messenger integration for Android Auto. This will allow Android Auto users to listen and reply to texts from friends on Messenger using voice commands.
Metrics
On November 16, Facebook announced an update to metrics and reporting " to give our partners and the industry more clarity and confidence about the insights we provide." Updates included increased third-party verification, additional measurements solutions with clients, and more consistent communication on metrics through a new Metrics FYI blog series.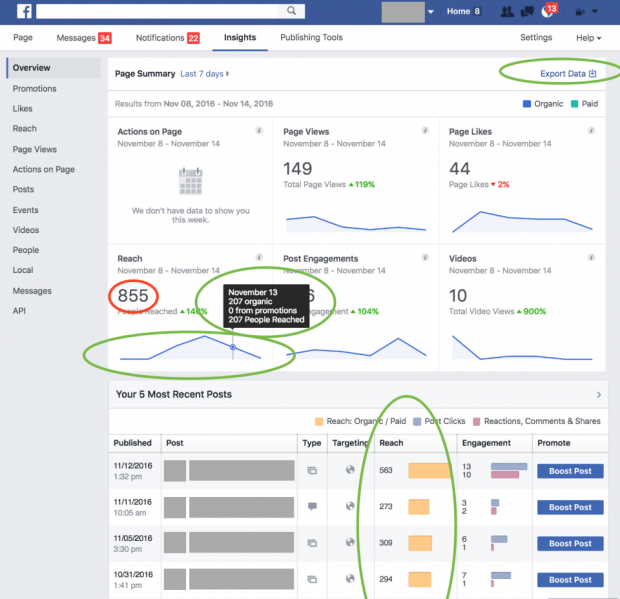 Image via Facebook.
Social Good Forum
At its first Social Good Forum on November 17, Facebook announced new tools to empower users to do good in the world:
Community Help lets users ask for or offer help, including shelter, food, and supplies following a natural disaster.
Safety Check, which gives users the opportunity to let friends and family know they're okay during a crisis, will now be triggered by the community rather than Facebook.
Fundraisers have been expanded so that users can raise money for more than 750,000 nonprofits as well as add a donate button to Live videos and posts.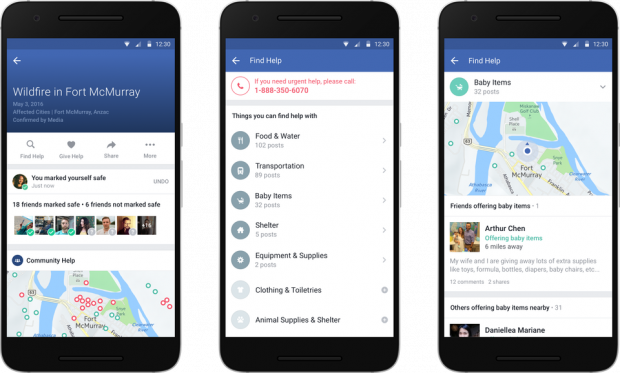 Image via Facebook.
Messenger games
On November 29, Facebook rolled out games on Messenger. Now users can play games—like Words with Friends: Frenzy, PacMan, and SPACE INVADERS— in Messenger. To initiate a game, users simply have to tap the game controller icon below the message compose area. Games will roll out to 30 countries at first. They're currently available for newer iOS and Android operating systems.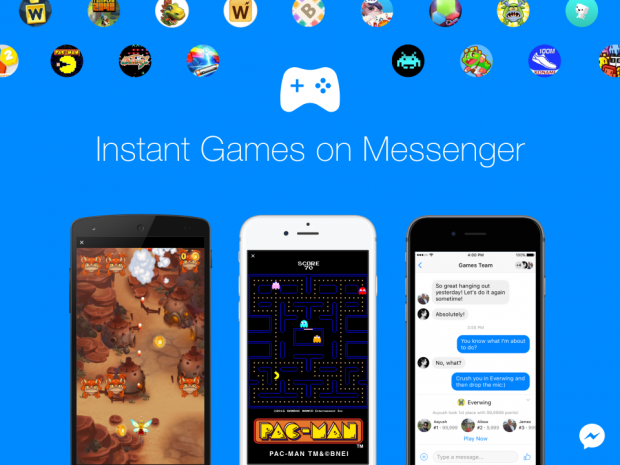 Image via Facebook.
Creative Hub
On November 29, Facebook introduced Creative Hub, "a new destination where marketers and advertisers can be inspired by great creative, design their own, and share it with others." Creative Hub lets businesses experiment with content creation—try new formats, preview ideas on mobile screens, collaborate internally, and share mock-ups with stakeholders—on Facebook and Instagram. It also includes a new "Inspiration Gallery" showcasing examples of great mobile creative on Facebook and Instagram. Creative Hub is available to advertisers and marketers globally.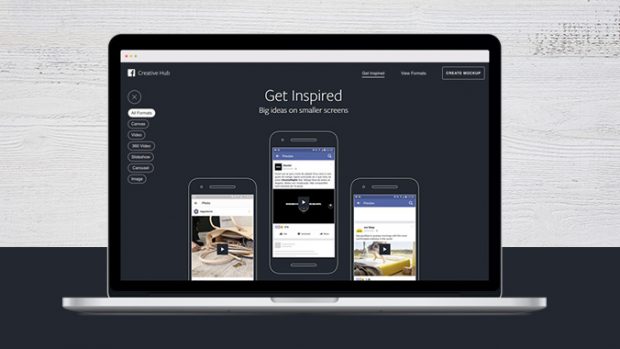 Image via Facebook.
Instagram
Shop CTAs
On November 1, Instagram announced a test for a new 'tap to view' button to make it easier for users to shop for products on Instagram. The button gives shoppers the opportunity to learn more about an item in an image, as well as the option to go directly to the retailer's website to purchase the item.
The feature is being tested with 20 U.S.-based retail brands, including Kate Spade, JackThreads, and Warby Parker. Learn more about Instagram's moves to improve the shopping experience for users in our post.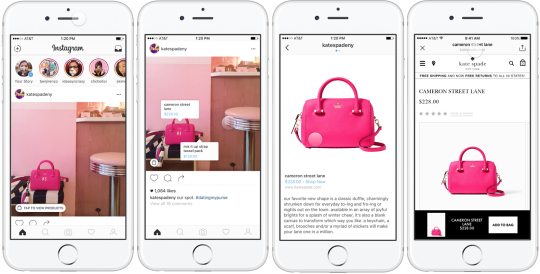 Image via Instagram.
New Stories features
On November 10, Instagram rolled out new Stories features, including Boomerang, mentions, and links:
With Boomerang, users can create a GIF-like looping mini video that plays forward and backward from a burst of photos, then share it to their Story.
With Mentions, users can mention other users in Stories the same as they can in captions and comments. Mentioned usernames in Stories appear underlined. When users tap them, they'll see a pop-up that takes them to the mentioned profile. When users are mentioned in a Story, they'll receive a notification in Direct.
With the links test, 'See More' links will appear at the bottom of some Stories posted by verified accounts. Tapping 'See More' or swiping up will display the link right inside the app.
The Stories updates are part of Instagram version 9.7, available for iOS, Android, and Windows 10.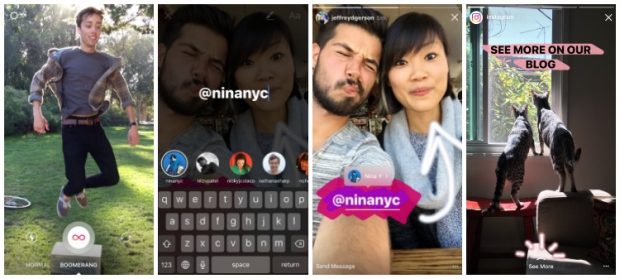 Image via Instagram.
Live video in Stories
On November 21, Instagram introduced live video.
While an account is live, a pink Live icon will appear under the account's profile photo in the Stories bar and people may receive a notification when users they follow are live. Viewers can comment and like and broadcasters can pin a comment for everyone to see. Users can also find new live Stories on Explore.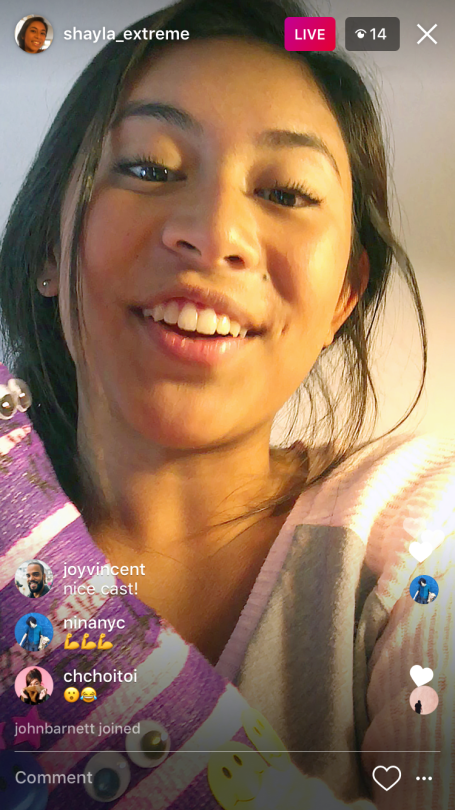 Image via Instagram.
To go live, users simply need to swipe right from the feed to open the camera, tap Start Live Video, and start sharing. Live videos can last up to an hour and will disappear from the app once a user finishes broadcasting. Live video on both Instagram Stories and Explore will roll out globally in the coming weeks.
[embedded content]
Disappearing DMs
Also on November 21, Instagram rolled out disappearing direct messages. Users can send photos and video directly to individual friends and groups. Once viewed, the messages will disappear from inboxes.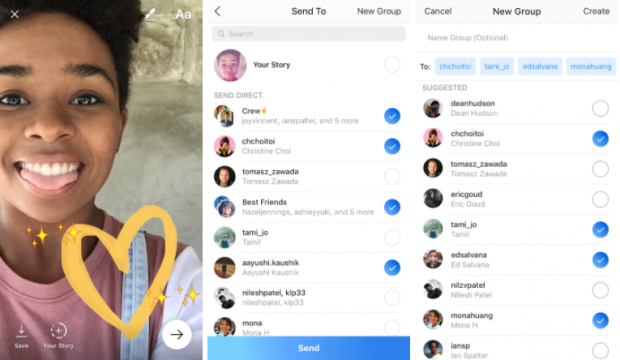 Image via Instagram.
To send a disappearing DM, swipe right to open the camera, take a photo or video, and tap the arrow to send it privately. Senders will see if the message recipient replayed it or took a screenshot. Users can only send disappearing DMs to people who follow them, regardless of whether their account is set to public or private. Instagram started rolling out disappearing DMs globally on November 21.
[embedded content]
Vertical ads
On November 11, Instagram rolled out vertical ad formats. Marketers can now upload up to 4:5 aspect ratio format for both photos and videos. Instagram explained in an announcement blog post: "Portrait has long been available on the platform for posts, and is a common format for consuming mobile content. Knowing this, we wanted to give advertisers everywhere greater creative flexibility by bringing the vertical format to Instagram ads."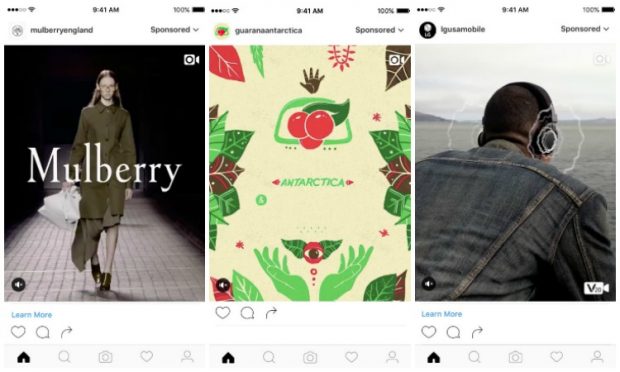 Image via Instagram.
Pinterest
Notifications
On November 2, Pinterest announced a simplified notifications tab. They removed the 'You' tab and moved all notifications to the 'News' tab. They've also combined Pin like notifications into "one simple story that you can tap into for more details." Notifications are also more visual and tappable so users can dive in for more information. Additionally, now all messages, Pins sent, group board invites, and Pin comments will all appear in Inbox.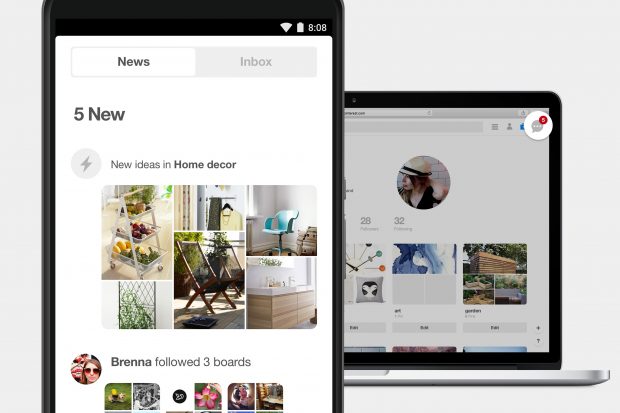 Image via Pinterest.
Marketing partners
On November 9, Pinterest introduced Marketing Partners, an expansion of the platform's existing third-party partner network. Marketing partners now includes two new specialties: measurement and audiences. The social network is also renaming the Marketing Developer Partners program to Marketing Partners.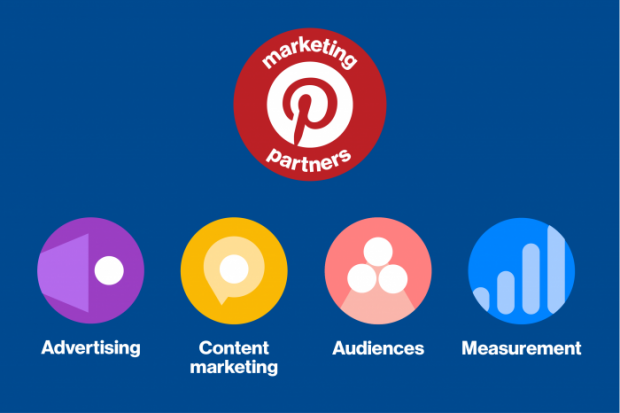 Image via Pinterest.
Keep track of tried Pins
On November 10, Pinterest introduced an easy way for users to keep track of the ideas they've tried on Pinterest. The platform explained: "Next time you build, visit or make something you found on Pinterest, tap the new checkmark to say that you tried it. You can even add feedback, notes and photos to help others decide if they should give it a go too." Tried Pins will be added to a new Tried section of their profile.
Additionally, once users have tried a Pin, their feedback will appear on the Pin itself. Users viewing the Pin can scroll down to see how it turned out for others. Pinterest began rolling out the feature on November 10, saying that "everyone would have it over the next few weeks."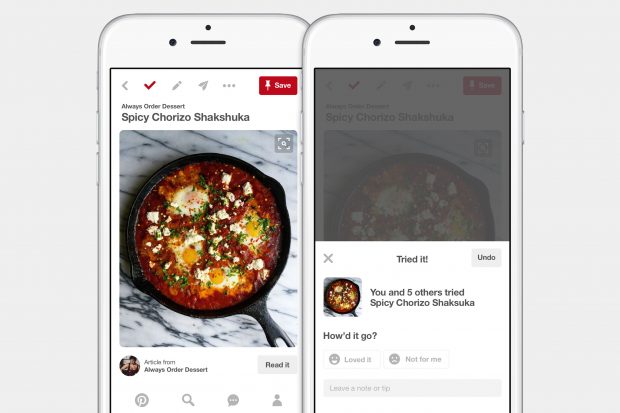 Image via Pinterest.
Explore section
On November 14, Pinterest introduced Explore, a new content-discovery section. Pinterest explained: "Each time you drop by Explore, you get a snapshot of what's trending on Pinterest."
Explore includes picks from tastemakers, industry experts, and Pinterest employees. Users can browse ideas on Explore by topic. On mobile, users can find Explore by tapping the magnifying glass icon; on the web, it appears as a new compass button next to the search bar.
Auto-play for Promoted Video
On November 15, Pinterest announced that it's testing auto-play for Promoted Video. The platform explained: "Brands advertising with this kind of Promoted Video can create an episodic viewing experience. With additional videos that run alongside the primary video, you can create a playlist of ideas."
Auto-play video will appear in Pinterest's new Explore section.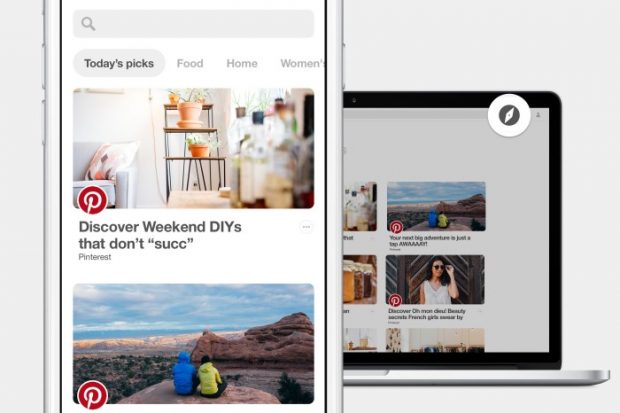 Image via Pinterest.
YouTube
HDR support
On November 7, YouTube added support for high dynamic range (HDR) videos. Users can watch YouTube videos in HDR on supported devices, such as HDR TVs. Any creator can upload HDR videos to YouTube.

Image via YouTube.
VR
On November 10, YouTube introduced a brand new VR app, available on Daydream. The standalone app requires a Daydream-ready phone (like Pixel) and the new Daydream View headset and controller.
Parental controls in YouTube Kids
On November 17, YouTube introduced new parental controls for YouTube Kids. Parents can now block videos or channels from their child's viewing experience. Blocked videos and channels will remain consistent across devices.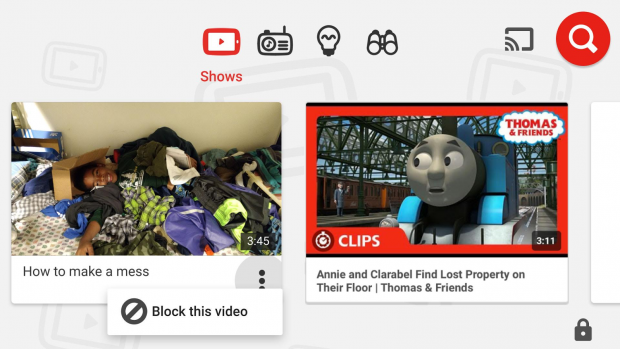 Image via YouTube.
4K live streaming
On November 30, YouTube introduced 4K live streaming for both 360-degree and standard videos.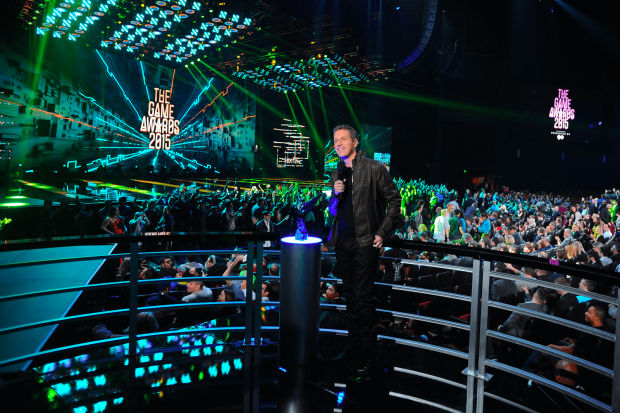 Image via YouTube.
Snapchat
Spectacles
On November 10, Snap Inc. launched Spectacles, the Snapchat parent company's much-anticipated foray into hardware.
Spectacles are sunglasses that connect to a user's smartphone, allowing them to easily share 10 second videos to Snapchat. They're been sold through bright yellow vending machines that have been popping up across the U.S.
Bitmoji Geofilters
On November 18, Snapchat introduced the ability to add Bitmoji to custom Geofilters, reported Mashable. When users create on-demand Geofilters through Snapchat's website, they're given the option to include their own Bitmoji or Friendmoji.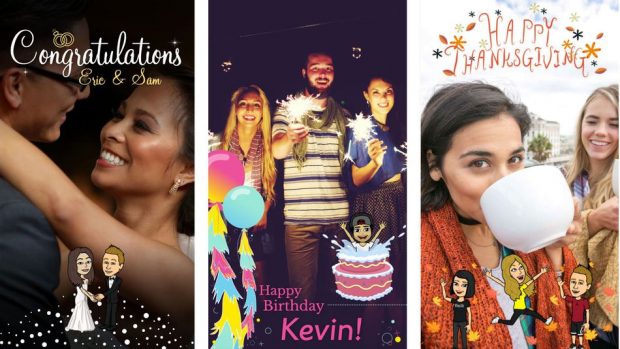 Image via Mashable.
Hootsuite
Enhance
On November 1, Hootsuite released Enhance, a new photo-editing app to help ensure images are cropped and sized perfectly for each social network. With Enhance, users can add filters, borders, stickers, text, or a watermark. Additionally, users can browse a selection of stock photos free for commercial use. And users can share their creations straight to their social network of choice—including Facebook, Twitter, Instagram and more—or schedule them for later using using the Hootsuite mobile app.
Want the best social media images? Get Hootsuite Enhance to easily find, crop, edit, and share photos to all your social networks.
This post was originally published on Hootsuite