Recap: Social Media Day Philadelphia 2016
By: Jennifer Glassey
Social Media Day Philadelphia 2016 was sold out. With over 300 attendees, 50 speakers and 20 sponsors from across the country, the largest celebration in the United States went off without a hitch.
Speakers were from LFG, Thomas Jefferson Health, Starr Restaurants, Visit Philly, Curalate, Campbell's Soup, Philadelphia Flyers, SAP and RJMetrics. Sponsors included Digitas Health Lifebrands, Brownstein Group, Bad Rhino Inc., Mole Street, O3 World, The Kimmel Center and The Logan Hotel. Mane Stream offered free massages outside of Laureates Theater in between talks. On the Goga provided short yoga breaks to keep the attendees fresh and comfortable for the 11-hour day.
The Franklin Institute was filled with leaders from the digital marketing industry. From bloggers to CEOs, people in all parts of the industry dodged summer campers and took the Institute by storm, ready to learn and compare strategies and tools. Vanik Interactive designed an app for the event to keep everyone informed of the time and location of each talk throughout the day.
Erin Dress, Brand Marketing Specialist & CPG Lead at Twitter, kicked off Social Media Day with an opening keynote about social media being the place for brands to find honest feedback from customers. Dress also informed the crowd that millennials make up more than half of the users on Twitter and another 20 percent of users are mothers. Twitter serves the purpose of providing information aside from Google. People, primarily moms, are logging onto Twitter and finding information on a breaking news story, product or person. Marketing is no longer based on geographics but on psychographics.
Publishers are creating stories with videos and images more frequently than with text. Facebook Live and Snapchat were among the experts' favorites for top content publishers in the industry at the moment. Although it's not just taking a picture or capturing video, it's overlaying text, filters and stickers. Krista Neher, CEO of Boot Camp Digital, finished the day with a closing keynote on the importance of visuals and the emerging visual marketing sector. Neher shocked the audience by explaining that images get 650% more engagement. When it comes to visual marketing, the very first step is your website. Build your landing page before focusing on social media.
Authenticity is key. Comcast Cares became a case study on what to do right on building relationships with customers. Being authentic with your customers and having a personalized conversation will have a great impact on your brand. Making an emotional connection is necessary for your brand to make any progress. Almost every speaker included why authentic, organic and personal content is more effective than corporate style posts. Matt Dickman emphasized the need to humanize the brand. Dickman explained that customers have a difficult time hating a brand if they knew who helped create it.
The healthcare industry is using social media to improve customer service. Using Twitter and Facebook messenger, customer service reps from healthcare companies can help someone in the moment, when they need it in the ER waiting room. When customers sit down in the waiting room, they can have immediate access to information regarding their insurance, wait time and their conditions that brought them in. Hospitals can better serve their patients and provide quicker solutions. By responding to messages within 20 minutes, the problem can be easily diffused. Social media channels should be monitored in order to remain within the company's policies, especially when dealing with health services.
Content collaboration is a huge takeaway. Brands need to collaborate with their audiences and internal teams. Apu Gupta spoke about how brands are not asking their consumers for their feedback or participation in creating content. There needs to be an increase of internal and external team collaboration within a company. Orly Zeewy said during her Flash Talk, "social media is a set of behaviors." It is an integral part of everything we do, how we behave. A brand's messaging should match how its customers behave. Brands should engage with customers in the ways that they want to engage. Moving forward, companies should focus on getting back to the basics by asking themselves these questions: How are we communicating? Who are we trying to talk to? What business objectives are we trying to achieve? Overall, what are we doing?
There were so many great conversations held at the event. If you want to hear more about the topics discussed at Social Media Day, watch the recorded #Swebinar – What You Missed At Social Media Day Philadelphia 2016. You can also read up on what some of the attendees found to be the key takeaways from the day.
See you all next year for Social Media Day Philadelphia 2017!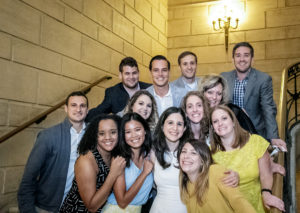 This post was originally published on Slice Communications